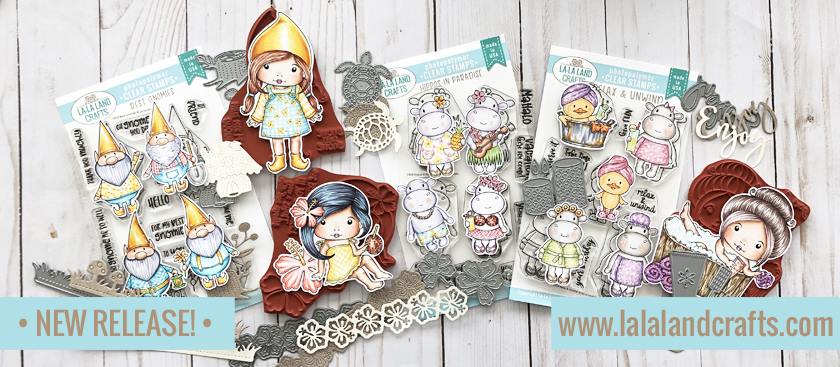 Welcome back to the La-La Land March Release and this card is created with the New Relax and Unwind Clear Stamp Set from the March Release.
The cute spa party friends from the Relax and Unwind Clear Stamp Set are surrounded with the New Candles Die Set and Spa Die Set. colored to match the towels on the little characters.
The card base is set on the Scalloped Rectangles Die Set and stamped with the Hearts Forever Background Stamp Set.
The cute critters are surrounded with diecuts from the Scalloped Heart Die Set and the Heart Wreath Die Set.
These are the Copic Markers I used:
Ducks:Y08, Y02, Y00, Y000, YR15, YR12, YR21, R30
Hippo: W4, W3, W2, W0, R30
Tub: N3, N2, N0
Towels/ Candles/ Spa Set: R22, R2O, R00, W2, W0
Cucumber water: YG09, YG05
I made a full card assembling video on my youtube channel "Amador's Crafts & Kits" just click the link below to take a look!
Check out the La-La Land Crafts site for all of these products with the links below.
Amador
Products used on this project:
Relax & Rewind Clear Stamp Set
Spa Set Die
Two Candle Die Set
Hearts Forever Background Stamp Set
Scalloped Heart Die Set
Heart Wreath Die Set
Scalloped Rectangles Die Set
Sizzix Bog Shot Express Machine
Big Shot Machine
AFFILIATES
Affiliate links are a way for me to meet the expenses incurred by this website and it's video hosting service; and as you know I don't charge you for my tutorials.
When you purchase a product through the links provided, I receive a small commission at NO ADDITIONAL COST TO YOU. The purchase price is the same regardless whether you use my link or not.
It is my hope that you use these links as you shop, so that I may continue to bring you great crafting content and tutorials.
Thank You
Amador