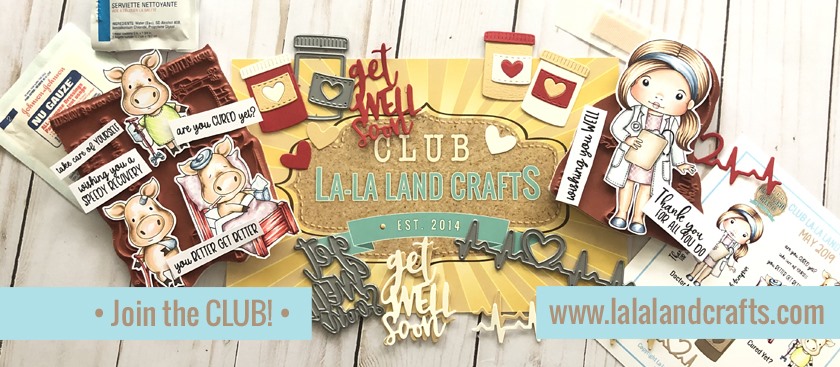 We always need a "Get Well" card or "Thank You" card for those who helped us get well. These "Sick Little Piggy" cards with the Club La-La Land Crafts Kit are the perfect thing.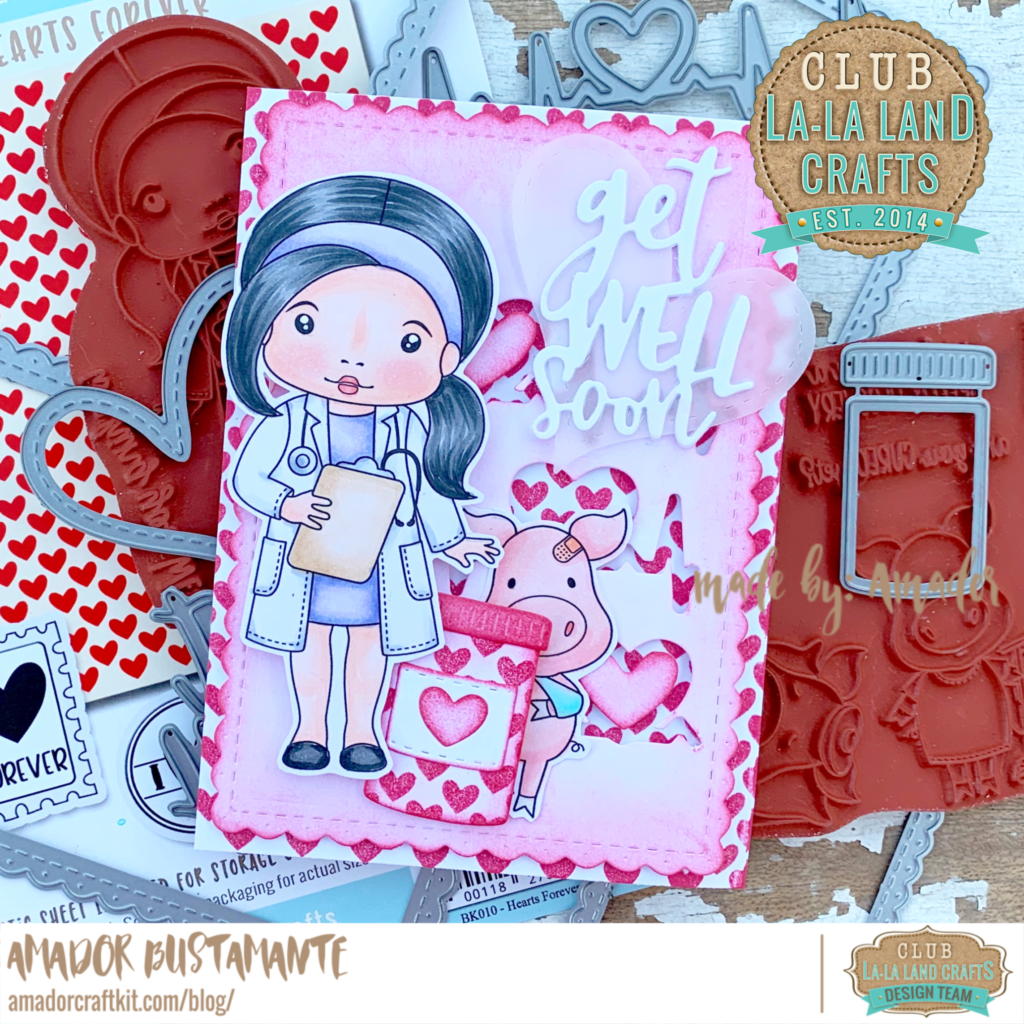 The first card I'm sharing is a little Get Well card with Doctor Marci and a sick little piggy from the Club La-La Land Crafts Club Kit. The base is made with the Scalloped Rectangle Die Set and is sitting on top of a base stamped with the Hearts Forever Background Rubber Stamp. I die cut the card front with the Heartbeat Die from the kit to show the background hearts. Since I created a negative section I added the hearts in the middle. The shy sick little piggy is hiding behind the Pill Bottle Die cut. to top it off I die cut the Get Well Die and layered it over a vellum cutout of the Scalloped Hearts Die Set.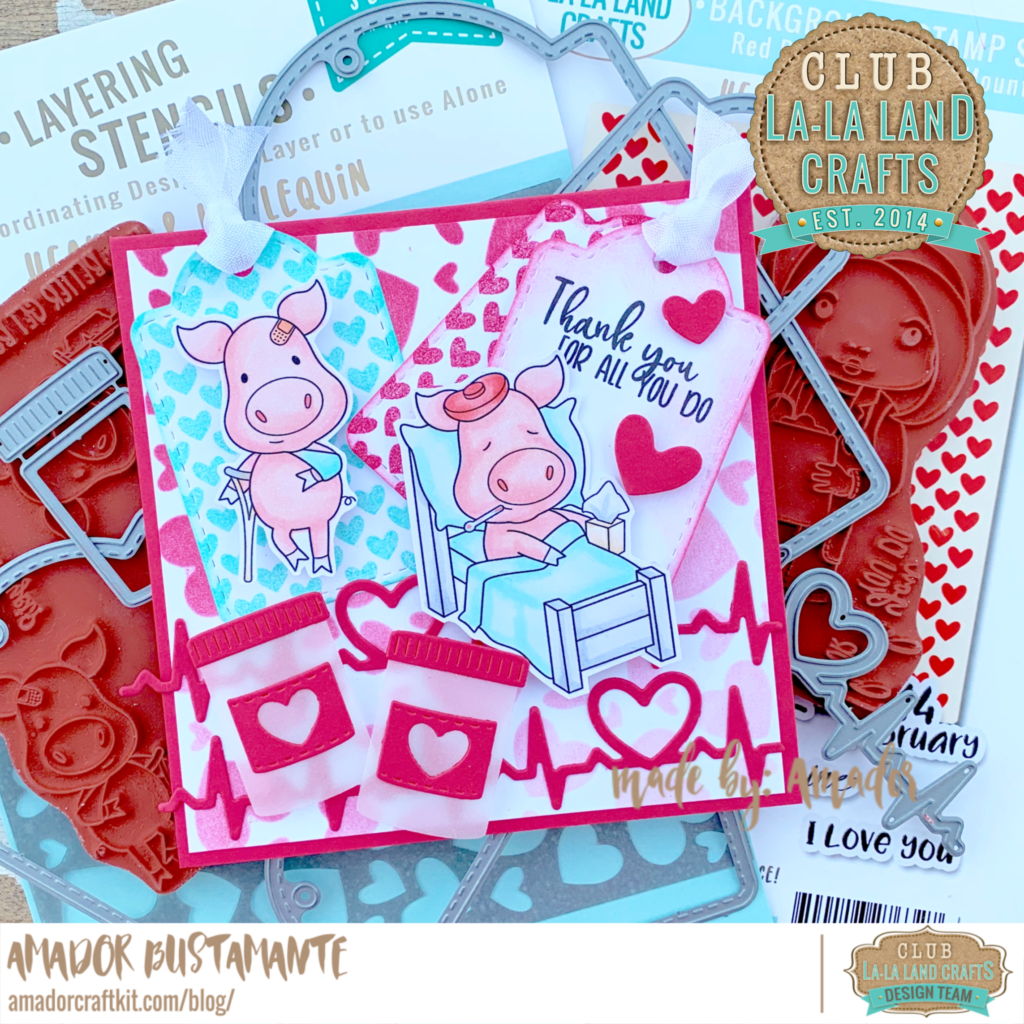 My second project is a Thank You card with some sick little piggies from the Club Stamp Set. The base is made with the the Hearts & Harlequin stencil in an ombre pink. I layered some tags made with the Large Stitched Tags Die and stamped with the Hearts Forever Background Stamp Set. the base has the Pill Bottle Die in vellum and the accents in the same pink as the card base. I placed several die cuts of the Heartbeat Die along the bottom etc create a base. the little hart accents are from the Pill Bottle Die and Heartbeat Die. I used Copic Sketch Markers to color these Stamos and here are the colors I used.
Copic Sketch Markers
Marci
Skin: E000, E00,E01, R30
Hair: N2,N4,N6
Coat/ Shoes: C0, C3
Dress/ Headband: BV0000, BV01, BV02
Clipboard:E30, E31
Pig: R000, R00, R20, R21
Water Bottle: R22, R21
Bed: C0, C3
Bedding/ Gown: BG000, BG10, BG11
Tissue/ Box: C0, C3, E30, E31
All of these products not in the Club La- La Land Crafts Kit Club are now in the La-La Land Crafts store. Check out the links below to take a look.
Products used on this Project:
May La-La Land Club Kit
Doctor Marcy Stamp 
Cured Yet Pig Stamps
Pill Bottle Die Set
Get Well Soon Die
Heart Beat Die
Large Stitched tags Die Set
Scalloped Rectangles Die Set
Scalloped Heart Die Set
Hearts Forever Background Stamp Set
Hearts & Harlequin Stencil Set
AFFILIATES
Affiliate links are a way for me to meet the expenses incurred by this website and it's video hosting service; and as you know I don't charge you for my tutorials.
When you purchase a product through the links provided, I receive a small commission at NO ADDITIONAL COST TO YOU. The purchase price is the same regardless whether you use my link or not.
It is my hope that you use these links as you shop, so that I may continue to bring you great crafting content and tutorials.
Thank You
Amador