Halloween is upon us and bring on the Candy Corn!!! Yes I am one of those few people that actually like Candy Corn so for today's card I wanted to make Candy Corn Gnomes with the Best Gnomie Clear Stamp Set from La-La Land Crafts.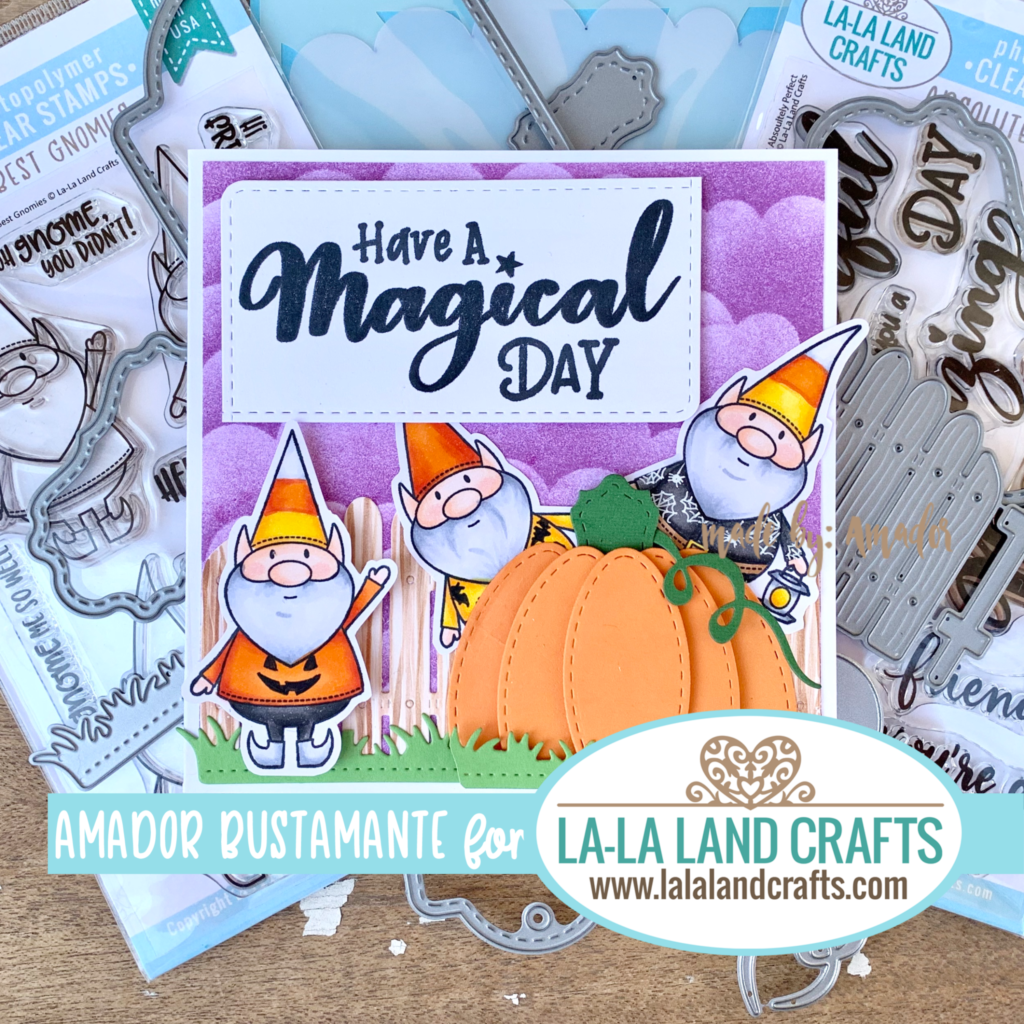 The pumpkin is made with the Double Stitched Ovals Die Set and the Nested Frames Small Die Set. for the curly part I used the Balloons Die Set.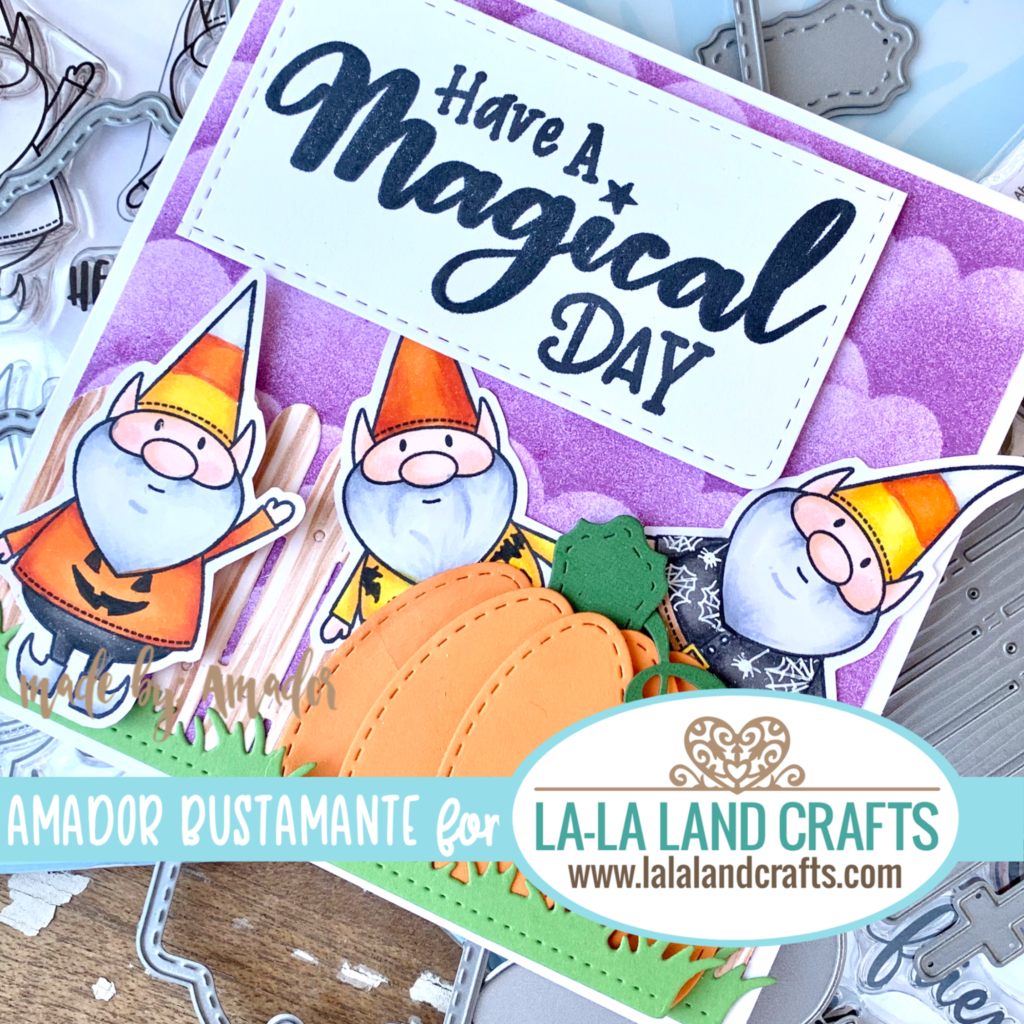 The card base is made with the Summer Is Here Layering Stencil Set with purple ink. To set the scene I used the Garden Fence Die Set and the Mushroom and Grass Border die.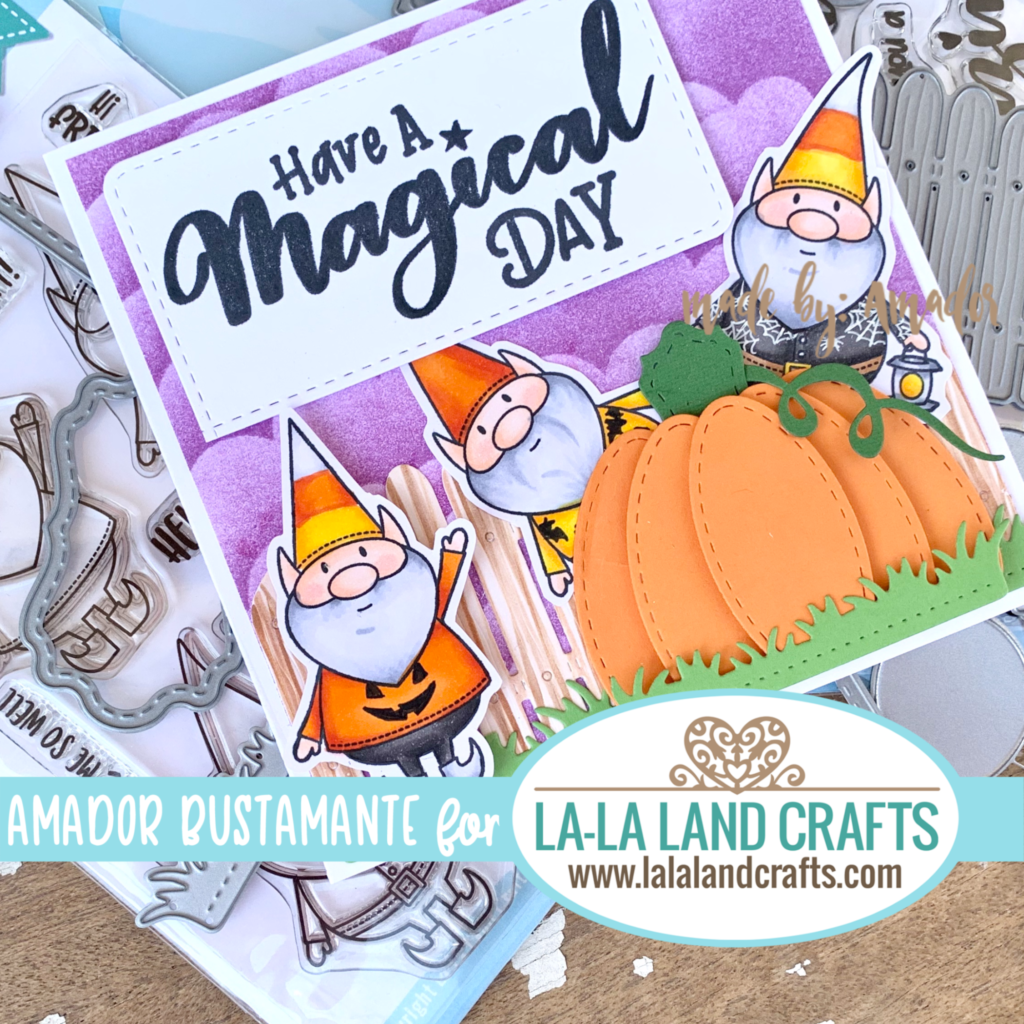 The sentiment is from the Absolutely Perfect Clear Stamp Set and die cut with the Large Stitched Tags Die Set. All of the images are colored with Copic Sketch Markers. All of these crafty goodies are now available in the La-La Land Crafts store.
Copic Sketch markers used on this project:
Skin: E000, E00, E01, R30
Beard: C0, C3, C5
Clothing: T4, T6, T8, C0, C3, C5, YR09, YR16, YR04, Y38, Y16, Y08, E33, E35
Hats: C3, C0, YR09, YR16, YR04, Y38, Y16, Y08
Products used on this project:
Best Gnomie Clear Stamp Set
Absolutely Perfect Clear Stamp Set
Double Stitched Ovals Die Set
Balloon Die Set
Mushroom & Grass Border Die Set
Garden Fence Die Set
Nested Frames Small Die Set
Large Stitched Tags Die
Summer Is Here Layering Stencil Set
AFFILIATES
Affiliate links are a way for me to meet the expenses incurred by this website and it's video hosting service; and as you know I don't charge you for my tutorials.
When you purchase a product through the links provided, I receive a small commission at NO ADDITIONAL COST TO YOU. The purchase price is the same regardless whether you use my link or not.
It is my hope that you use these links as you shop, so that I may continue to bring you great crafting content and tutorials.
Thank You
Amador