Description
Vintage Mail Mini Album Kit | The Vintage Mail Mini Album Kit is perfect for any Mail or Male themed projects.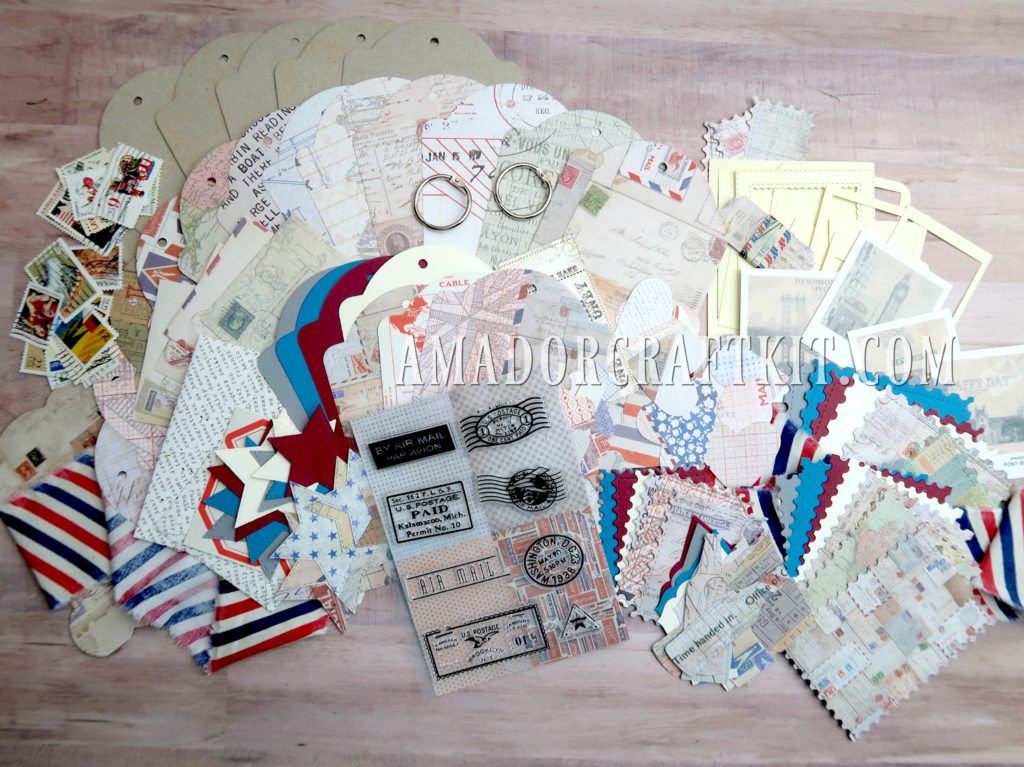 This Vintage Mail Mini Album kit would make a great Father's Day project and gift. It comes with a wide array of ephemera and diecuts.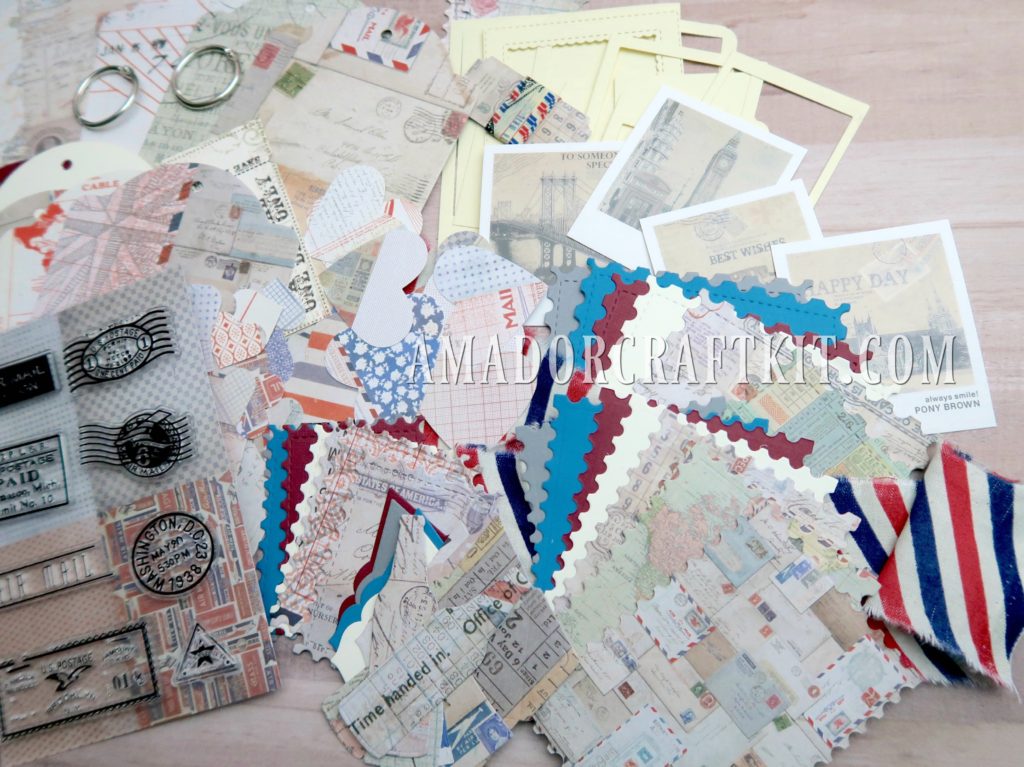 The Vintage Mail Mini Album Kit will create two or maybe even more mini albums or flip cards. You also get a 4″x5″ postal stamp set to use as an extra embellishment.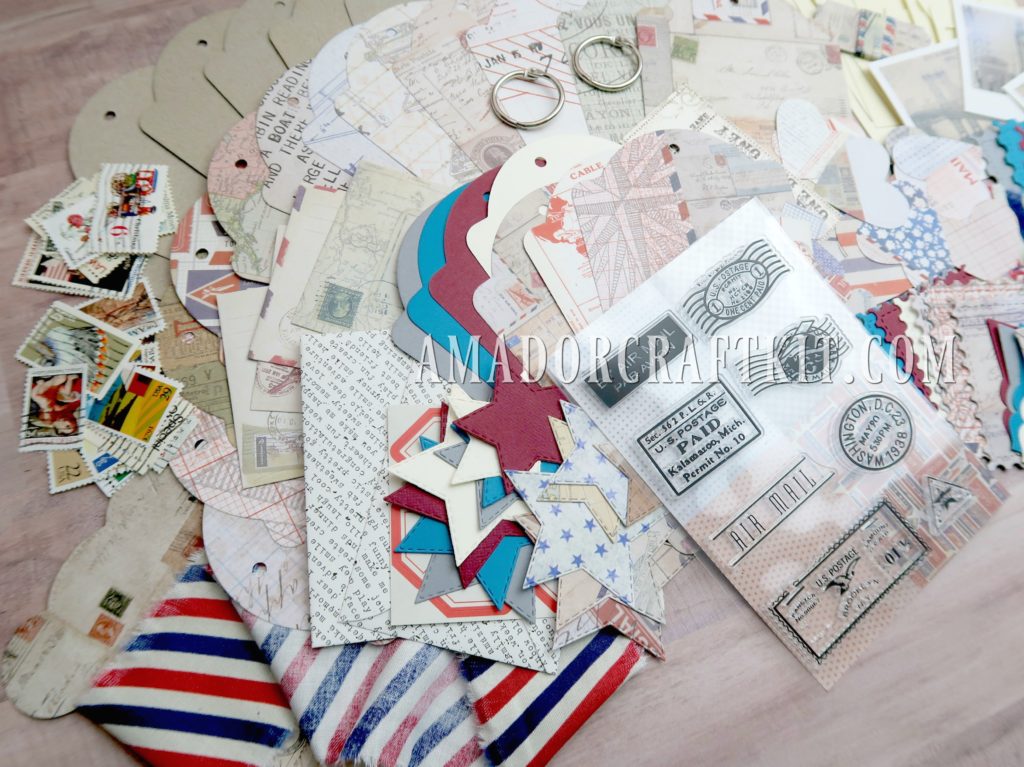 the stamp set has six full postal themed stamps to give your project a little more sense of being well traveled.  This is a small sample I created for my Father's day gift.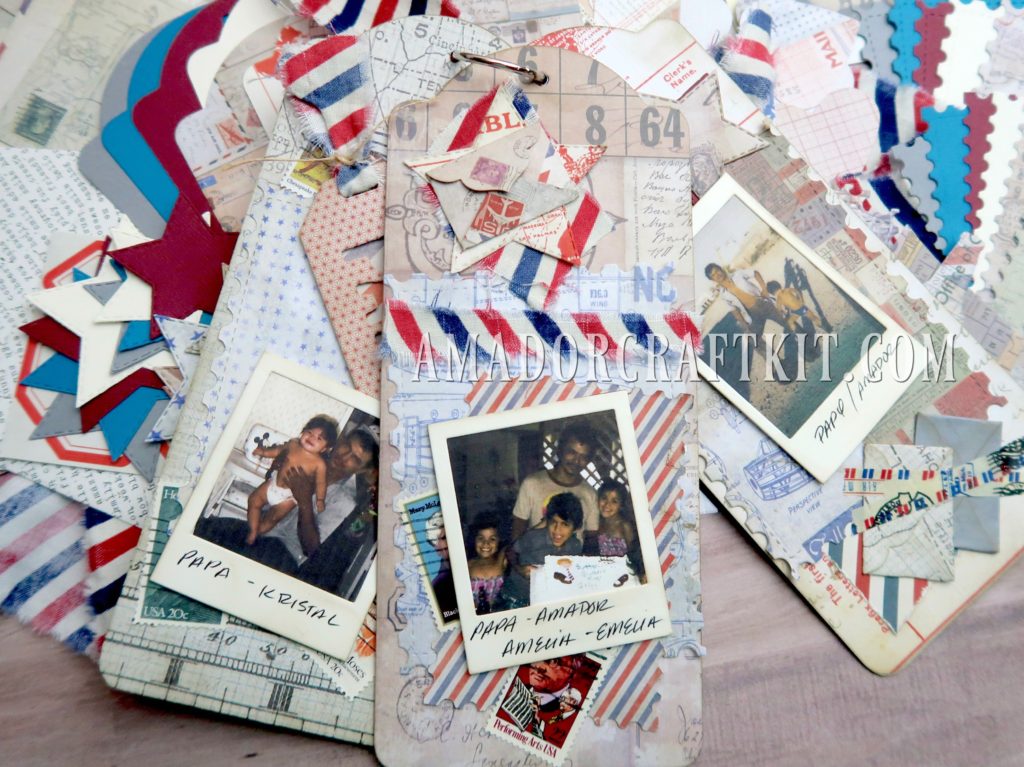 You can see a full process video of the project on my youtube channel "Amadoreros"
*Each $25 purchase will receive 1 "Amador's Craft Cabins" key tag! While supplies last
Vintage Mail Mini Album Kit includes:
6 lightweight chipboard large tags 81/2″x33/4″
12 cardstock large tags
4″x5″ photopolymer postal stamp set in storage sleve
2 1″ binding rings
4 medium yardstick tags 5 1/2″x3 3/4″
3 medium cardstock tags
5 diet polaroids in different sizes
24″ airmail washi tape
4 mini vintage inspired Polaroid images (images will vary)
 12 herat diecuts
14 mini heart diecuts
1 ephemera ticket
6 diecut stamp shapes 3 1/4″x4 1/4″
8 diecut stamp shapes 2 3/4″x3 3/4″
7 diecut stamps 2″x2 3/4″
3 diecut stamps 1 1/2″x2″
4 mini envelopes 2 3/4″x3 3/4″
2 medium diet envelopes 2 3/4″x4 1/8″
 19 actual vintage stamps (images will vary)
14 diet stars (various sizes)
7 diecut tiny envelopes
3 diet bottles with labels
Return Policy
All of our kits and products have been hand selected and assembled with love and excitement for crafting. We hope you love our kits and products as much as we like making them. If you receive your kit and you are not completely satisfied please contact us to make return arrangements. You would simply ship the item(s) back and we would gladly refund the price of the item(s) you purchased.
Unfortunately we are not able to refund any shipping costs. Your refund will be processed once the item(s) have been received and reviewed. We would be glad to offer you a credit for the original shipping cost towards your next purchase of item(s)
Store credits may be applied to store products only*