Description

Cookie Cutter Kit
This Cookie Cutter Kit is great for the begging cookie enthusiest or a seasoned cookier!  I have become infatuated cookie making and have included everything you need to get started. This kit  includes 6 sets of Sweet Sugarbelle cookie cutters that I have chosen to give you a well rounded selection that you can use throughout the year and various seasons. Just for love and Valentine's Day i have also included a set of 6 heart cookie cutters.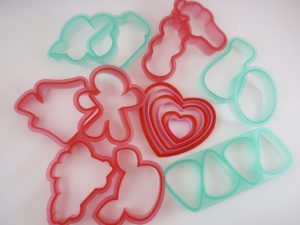 For decorating and embellishing your cookies You will receive an edible ink pen and premium tipless piping bags. I have personally used all of the products in this kit!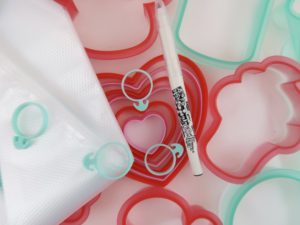 Cookie Cutter Kit Contents:
6 Sweet Sugarbelle Cookie Cutter Sets (11 cookie cutters)
1 Heart Cookie Cutter Set (6 cookie cutters)
40 Tipless Piping bags
1 Food Doodler Pen (color will vary)
4 Piping Bag Ties
Return Policy
All of our kits and products have been hand selected and assembled with love and excitement for crafting. We hope you love our kits and products as much as we like making them. If you receive your kit and you are not completely satisfied please contact us to make return arrangements. You would simply ship the item(s) back and we would gladly refund the price of the item(s) you purchased.
Unfortunately we are not able to refund any shipping costs. Your refund will be processed once the item(s) have been received and reviewed. We would be glad to offer you a credit for the original shipping cost towards your next purchase of item(s)
Store credits may be applied to store products only*