We continue with the June Releases for La-La Land Crafts with In The Garden Marci. For fun I wanted to have Pink Chickens in the garden with Marci.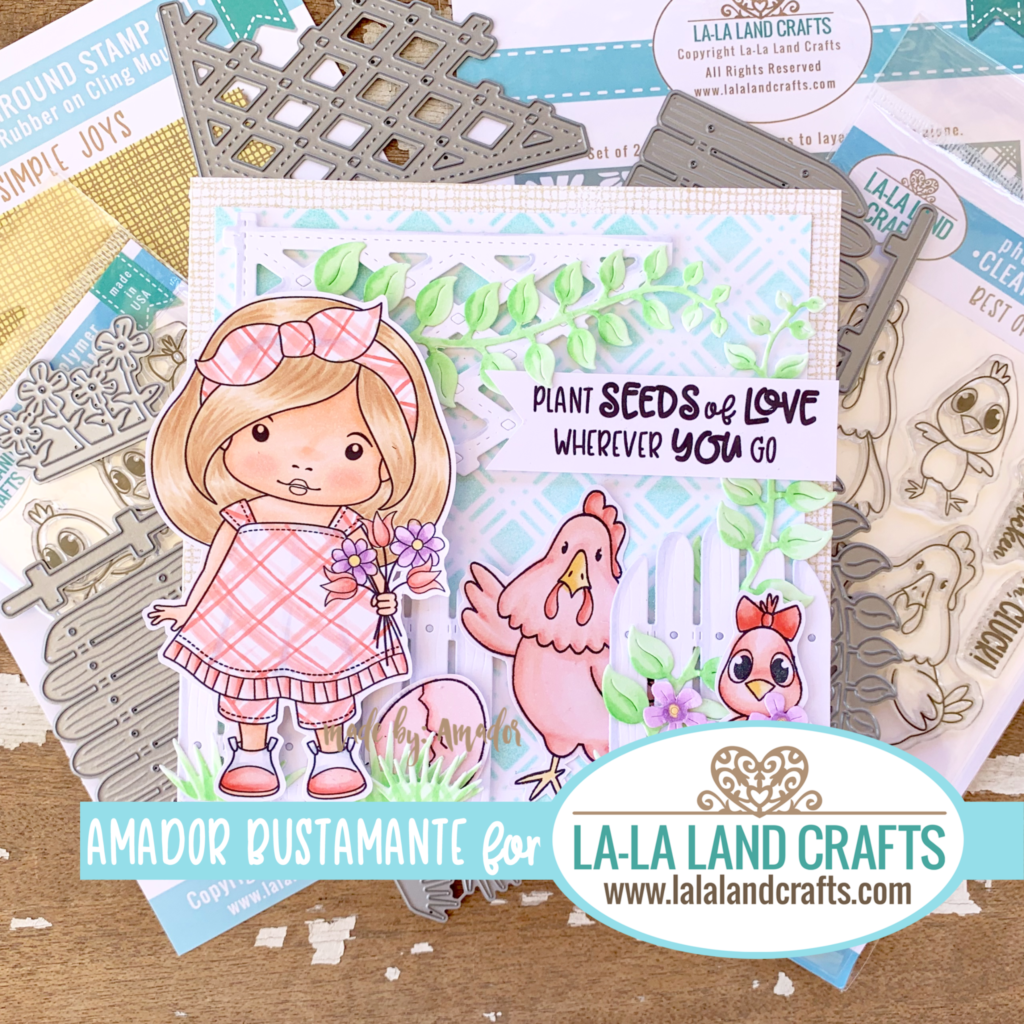 In the Garden Marci Rubber Stamp is decked out in her pink plaid romper. Marci's garden is made up with the Garden Gate Die Set and the Garden Fence Die Set. The background has the Garden Trellis Die.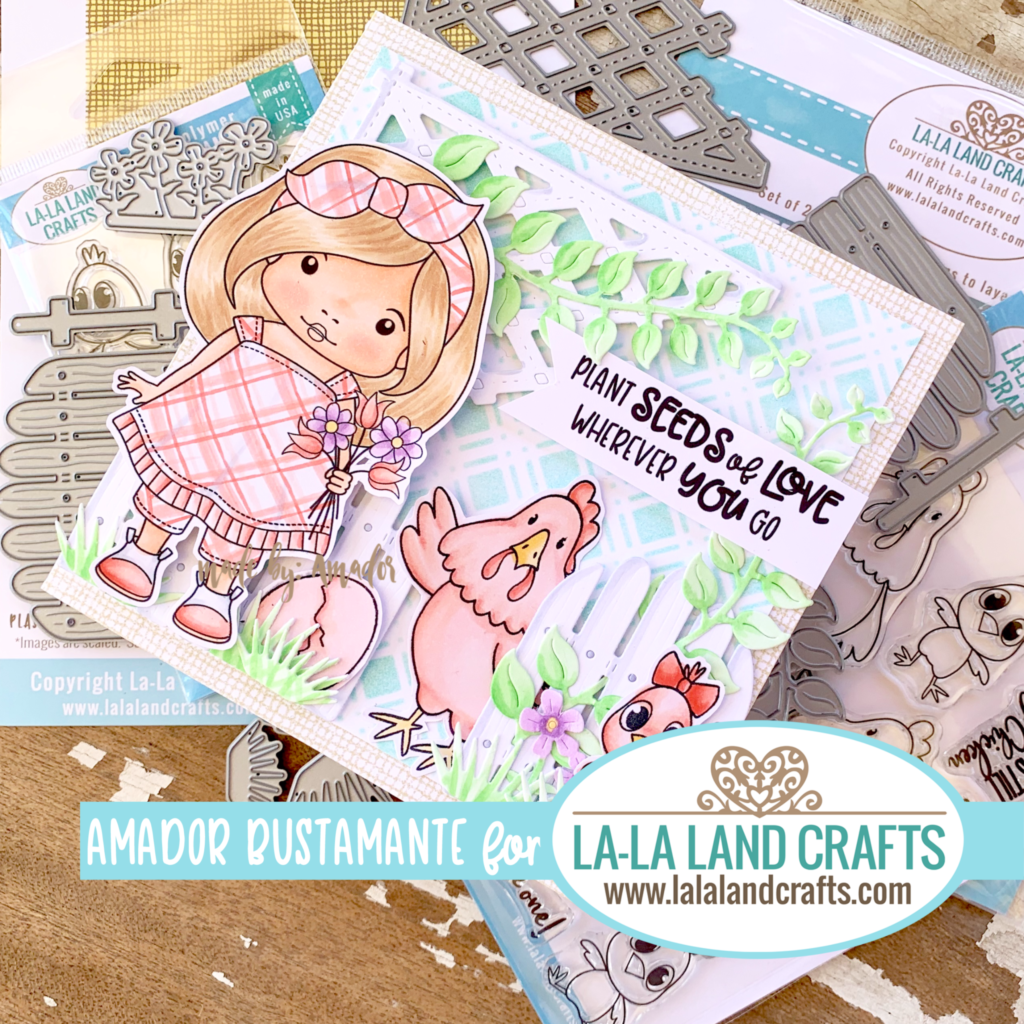 What is a fantasy garden without some pink chickens. I used the Best Of Cluck Clear Stamp Set and the Poultry In Motion Clear Stamp Set for my pink chickens and egg.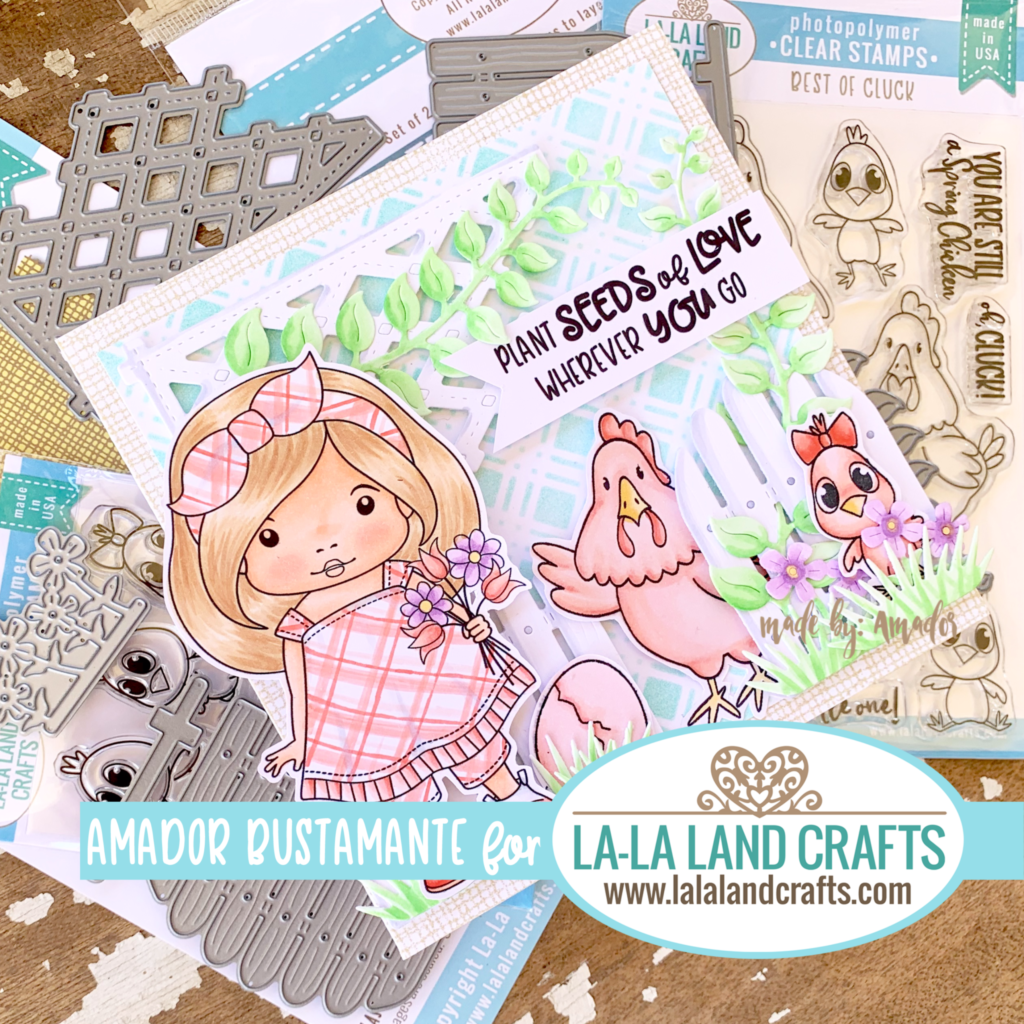 Marci's garden grows with the Leafy Vine Die and the Flower Bunch Die. The Grass Patches Die Set adds the finishing touches. The card base is made with the Daisies On My Mind stencil set and the Simple Joys Background Rubber Stamp Set. All of the stamps and die cuts are colored with Copic Sketch Markers. All of these awesome craft goodies are now available in the La-La Land Crafts store!!!
Copic Sketch Markers used on the project:
Skin: E000, E00, E01, EO2
Hair: E30, E31, E33
Clothes: R20, R22, R24
Chickens/ Egg: R00, R20, R22, R24
Vine/ Grass: YG06, YG11
Flowers: V01, V12, V15, R2, R22, R24
Fence/ Gate/ Trellis: C0, C2
Products used on this project:
In The Garden Marci
Best Of Cluck Clear Stamp Set
Poultry In Motion Clear Stamp Set
Garden Gate Die Set
Garden Fence Die Set
Garden Trellis Die
Daisies On My Mind Stencil Set
Simple Joys Background Rubber Stamp
Leafy Vine Die
Grass Patches Die Set
Flower Bunch Die
Sizzix Bog Shot Express Machine
Big Shot Machine
AFFILIATES
Affiliate links are a way for me to meet the expenses incurred by this website and it's video hosting service; and as you know I don't charge you for my tutorials.
When you purchase a product through the links provided, I receive a small commission at NO ADDITIONAL COST TO YOU. The purchase price is the same regardless whether you use my link or not.
It is my hope that you use these links as you shop, so that I may continue to bring you great crafting content and tutorials.
Thank You
Amador