Christmas In July ok August | Christmas in July ok August is what happens when you realize you still have another Christmas project from last year that you haven't shared. My last Christmas project to share with you is the Christmas Wood Slice Tags I made for all of our gifts from last year. Every year I design a tag for all of the Christmas gifts going out to all of our friends and family. It usually revolves around the Christmas decor for that year.  last Christmas we went with a "Rustic Cabin Christmas Decor" I have a full process video on my youtube channel "Amadoreros"on how I put them together from start to finish.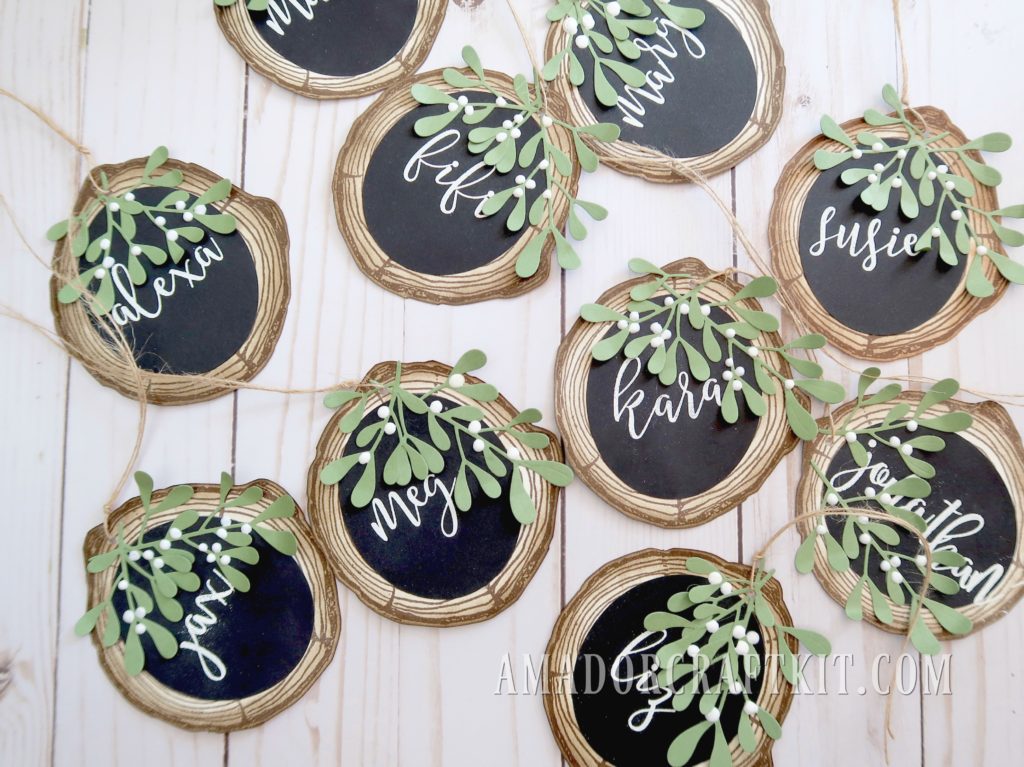 To go with our Rustic Cabin Christmas theme I decided to make a wood slice tags with mistletoe accents! I originally thought of using actual wood slices but  I have this Concord & 9th Tree Ring Stamp in my stash and was itching to use it.  The oval was a simple cut file I made with my Silhouette Cameo to make it super easy. The names are embossed with the Concord & 9th Sophisticated Script Stamp Set and Stampendous Embossing Powder. I made a little mess but that was ok because it looked like tiny paint splatters for more of a realistic affect.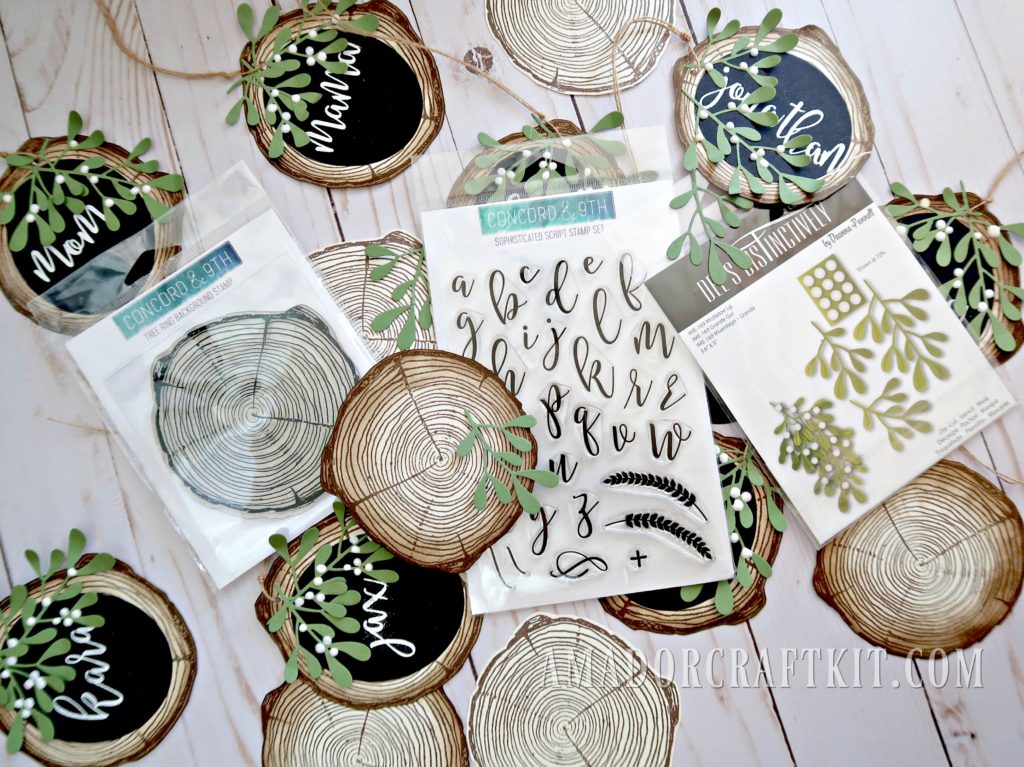 The mistletoe accents were created with the Dee's Distinctively Large Mistletoe Dies and then I just topped them off with Nuvo White Drops to make the mistletoe berries more dimensional.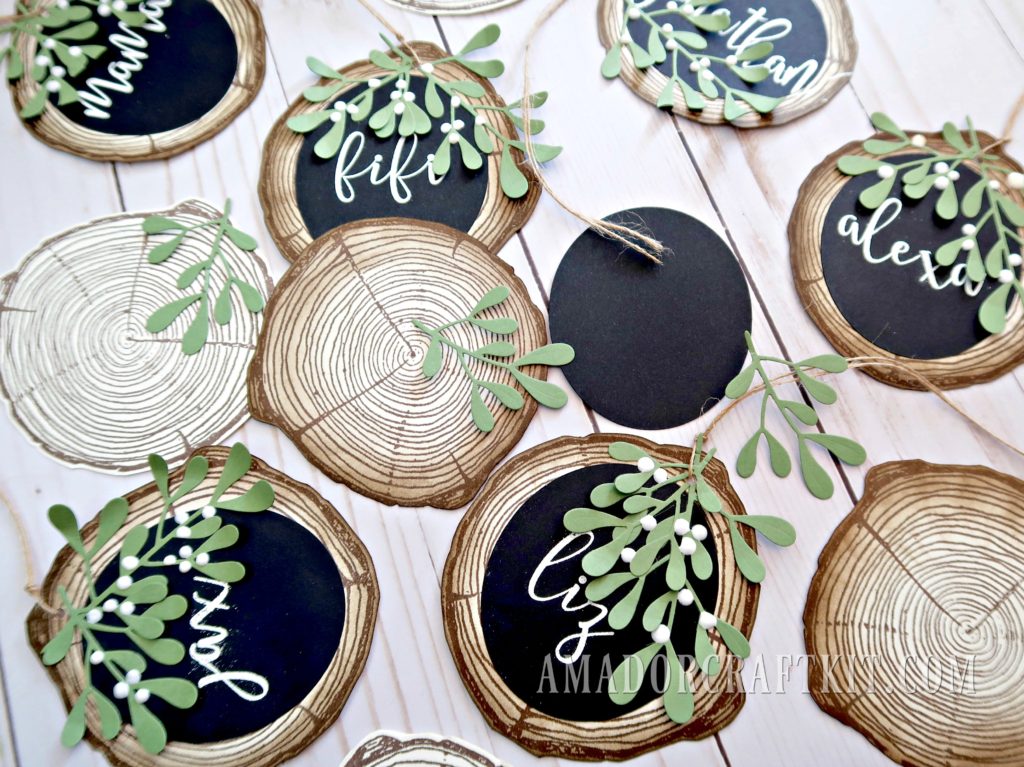 Here is the full process trial video!
I hope you have found some inspiration and I can't wait till next Christmas to share more Christmas Decor & Crafts with everyone.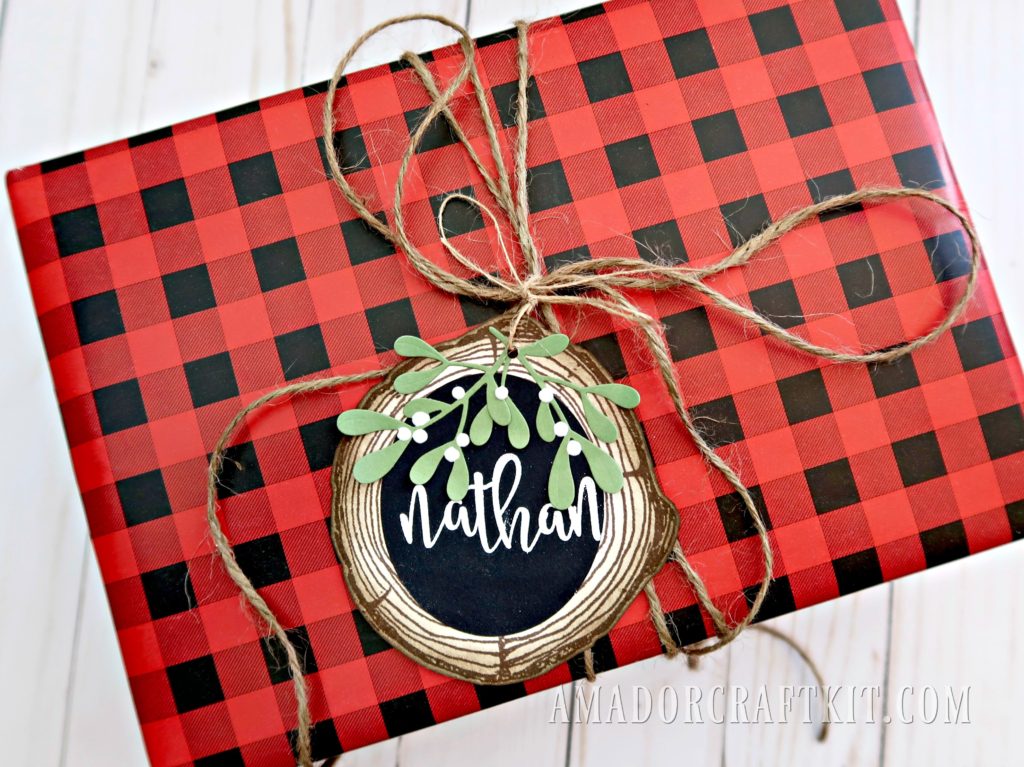 Also check out the links below for most of the products I used on this project:
Silhouette Cameo link: https://amzn.to/2Lxa6YS
Concord & 9th Tree Ring Stamp: http://shrsl.com/134pc
Concord & 9th Sophisticated Script Stamp: http://shrsl.com/134pu
EK Success Powder Tool: http://shrsl.com/134q9
Stampendous Embossing Powder: http://shrsl.com/134qm
Nuvo White Drops: http://shrsl.com/134qy
Dee's Distinctively Dies Mistletoe Die: https://www.diesrus.com/Dees-Distinctively-Dies–Mistletoe-Large_p_17388.html
Momento Rich Cocoa Ink Pad: http://shrsl.com/136ca
Scotch Tacky Glue: https://amzn.to/2LVWuqr
Scraperfect Glue Cap: https://amzn.to/2v93YNf
Amador
Check out my link and subscribe to my blog posts and newsletter
Website
https://amadorcraftkit.com/blog/
Shop

Youtube
‪https://www.youtube.com/user/amadoreros‬
Instagram
‪https://www.instagram.com/amadoreros/?hl=en
Pinterest
‪http://www.pinterest.com/amadoreros/‬
AFFILIATES
Affiliate links are a way for me to meet the expenses incurred by this website and it's video hosting service; and as you know I don't charge you for my tutorials.
When you purchase a product through the links provided, I receive a small commission at NO ADDITIONAL COST TO YOU. The purchase price is the same regardless whether you use my link or not.
It is my hope that you use these links as you shop, so that I may continue to bring you great crafting content and tutorials.
Thank you ?